Students in VR's team consists of students, educators, mentors, and members of the Educators in VR community guiding the innovative Students in VR projects, activities, and conferences.
Student Council
The Students in VR Student Council leads and advises on the conference. They are leading students in virtual reality. (Photos withheld for privacy reasons)
Kayla Jumper, also known as VelvetCake is a 15-year-old Cherokee Nation citizen that participates in international virtual reality events and conferences. She brings the perspective of Native female youth into discussions about emerging technologies. She aspires to be a psychologist and use virtual reality in innovative ways. She has interviewed Dr. Tom Furness, known as the Grandfather of VR, on a weekly student-run talk show in AltSpaceVR.
Lawson, also known as LumpofNoodles, is one of the talk show hosts for our weekly StudentsinVR event in AltspaceVR. His goal is to attend Cal Tech and major in computer science. He would also like to start his own VR business. He is an amazing water polo player and has gone to junior Olympics where he competed against other students from around the world. Lawson has also done many theater plays and presentations in VR in Rec Room. He enjoys playing any game as long as it is with friends and they can have fun.
Blaze, also known as 125thecat, is the Discord King for Students In VR.  He is one of the top students at his school and aspires to become a lawyer or a game developer. Blaze does an amazing Donald Trump impression.
Makeile manages the Students in VR Advisory Council and assists with Students in VR events.  She attended the Youth United Nations General Authority event as a Student Ambassador. She wants to become a successful business person and aspires to work in technology. She is also an amazing artist and is learning how to step out of her comfort zone and learning how to do things that will make a difference in the gaming world. She has the most contagious, funny laugh that makes everyone smile.
Everett, also known as Spookatz, provides hardware support for Students in VR. Everett is a world builder in Rec Room and has won a Roomie for his work with AI and creature design. He is an animator, artist and writer. He is currently working on a comic book. He also has six sisters.
Chloe, also known as LittleCherokeeGirl, is an accomplished storyteller in both English and Cherokee. She has won first place in the Oklahoma Native American Youth Language Faire for Spoken Language and has been featured on Osiyo TV, the PBS Special "Native America" and in the New York Times. Chloe loves to teach Cherokee in VR.
Evelien Ydo is a psychologist with a special interest in learning, communication and technology. Currently, she is finishing her masters in educational science and technology by doing research about assessment in VR training. She also worked on a project on training presentation skills and providing feedback in VR. Evelien is very passionate about empowering people through education and how technology can help do that.  
Students in VR Organizers
Dr. Angelina Dayton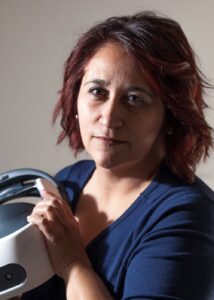 Dr. Angelina Dayton is the founder of the Students in VR Conference and a virtual reality user experience designer, speaker, consultant and trainer. Her specialty is the design and deployment of virtual reality user experiences into complex organizations such as public schools. Her current projects include the large scale deployment within rural, predominantly Native schools in the United States: over 50 schools with over 15,000 students piloting curated content based on state academic standards.
Donna McTaggart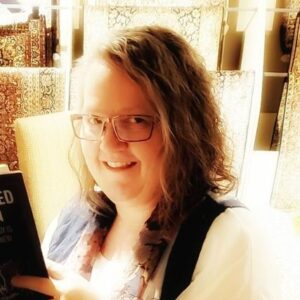 Donna McTaggart is the Students in VR Conference manager, an accounting software implementation specialist, and a social media and virtual reality professional. From 2009 to 2018, she organized and hosted a monthly Social Media Breakfast in Calgary, Alberta for a total of 100 events attended by an average 100 guests. As social media became more mainstream, she began planning her next frontier – virtual reality. In VR, she is now a host, facilitator and teacher. She hosts AltspaceVR 101, co-hosts AltspaceVR News & Updates, hosts and facilitates Live Loved: Faith in VR AND she hosts Let's Meet in VR, to teach new VR event organizers to create and run events in social VR.
Shannon Putnam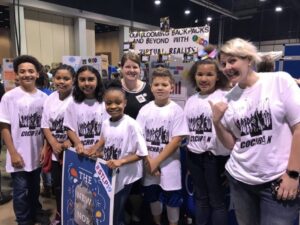 Shannon Putnam is a Virtual Reality Expert Teacher and creator of first Virtual Reality Lab in Kentucky. She is a National Board Certified Teach and Microsoft Innovative Educator. She is currently a PhD Student at University of Louisville, Kentucky. She recently spearheaded some groundbreaking work in distance learning utilizing bleeding edge technology, transporting students to the foot of the Golden Gate Bridge to participate in Dr. John Finch's last Writing Methods class
completely through Virtual Reality (VR). She's worked over the last four years, spending countless hours at Cochran Elementary working on integrating VR into their educational practice, and opened the first ever VR Lab in an elementary school in the Commonwealth of Kentucky. Recently, Shannon developed, secured funding for, implementing a larger, district wide, VR integration project for Jefferson County Public Schools.
Lorelle VanFossen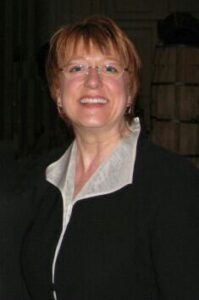 Lorelle VanFossen is the co-founder of Educators in VR, educator, trainer, and long-time proponent of democratizing speech and education through web-based technologies including web publishing and spatial technologies. She teaches online and in virtual reality an average of 20 hours a week providing training and consulting on VR event and class production and hosting, as well as classes and workshops on creative writing, genealogy, and more.
Daniel Dyboski-Bryant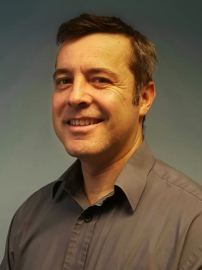 Daniel is the co-founder of Educators in VR, trainer, speaker and consultant of VR in education, and Project Lead for Exploring VR in Further Education, Remote Learning and Language, ESOL (English for Speakers of Other Languages) Lecturer, and Trainer at Coleg Llandrillo, Grwp Llandrillo-Menaia in North Wales UK. He was honored with the 2019 INSPIRE Award for Best Tutor in Wales – Adult Community Learning.